Archived Announcements
On this page:
2019 News
The Fall 2019 graduation list is out!
Congratulations to Karen Gallardo, Erin Netoskie, Ashley Pugh, Gary Sur, Ricky Tabandera, and Vanessa Zepeda -- our new M.S. degree recipients!
---
UH Hilo graduate student, Vanessa Zepeda, completes two internships with NASA's Jet Propulsion Laboratory
UH Hilo graduate students in the Tropical Conservation Biology and Environmental program have the opportunity to gain valuable work experience with impactful employers. One of our students, Vanessa Zepeda has recently completed two internships with NASA's Jet Propulsion Laboratory at Caltech. Read more about her experience.
---
UH Hilo graduate student, Alex Bischer, works to save critically endangered palila on Maunakea
Alex Bischer is in the professional master's internship track of the Tropical Conservation Biology and Environmental Science Graduate Program and is collaborating with researchers from a state agency and a private organization to save the palila (Loxioides bailleui), a species of Hawaiian honeycreeper. Read more about his internship experience.
---
The Summer 2019 Graduation List is out!
A big congratulations to Angela Beck, Maya Munstermann, Jared Nishimoto, and Corinna Pinzari -- our M.S. degree recipients! Way to go!
---
TCBES student, Koa Matsuoka, wins award at Hawaiʻi Conservation Conference
Congratulations to TCBES student, Koa Matsuoka, for receiving the Honorable Mention Graduate Student Oral Presentation at the 26th Hawaiʻi Conservation Conference held in Honolulu from July 9-11.
---
TCBES grad, Jeff Stallman, publishes paper on Hawaiian plants
Congratulations to 2019 TCBES master's program graduate, Jeffery Stallman, on his recent paper published in the Botanical Journal of the Linnean Society! His paper shows that DNA barcodes (short sections of naturally occurring DNA in the genome) fail to accurately differentiate most of the 385 species of native Hawaiian plants that were tested - likely due to rapid speciation, high incidence of hybridization, and polyploidy, that are common in Hawaiian plant lineages. This paper was the result of a collaboration between the Smithsonian Institution and the UH Hilo TCBES graduate program including the Department of Biology and Department of Geography and Environmental Science.
---
Jared Nishimoto TCBES M.S. Thesis Defense!
Please join us for Jared Nishimoto's thesis defense on Tuesday, July 16th at 8:30 am in Wentworth 9!
Title: Developing an underdominance gene drive system in the southern house mosquito
Since its initial introduction to Hawaii, avian malaria has decimated native Hawaiian forest bird populations. The main vector for avian malaria, the southern house mosquito (Culex quinquefasciatus), continues to threaten the native birds and will become an even larger threat with climate change expanding the range in which both the vector and pathogen can develop. We are developing an underdominance-based gene drive system in the southern house mosquito to potentially transform and control wild mosquito populations with the goal of mitigating the decline of native Hawaiian birds. An underdominance gene drive has safety measures in that the transformed population is geographically stable and the transgene can be removed from the population if desired. Such a system has already been established in Drosophila melanogasterand was shown to remain stable for over 200 generations. In the current study, we perform the first steps to adapt this underdominance gene drive system for use in mosquitoes for the first time, by integrating a synthetic genetic construct containing a "self-docking site" in a lab colony of southern house mosquitoes. As a component of our overall gene drive system, this self-docking site is intended to allow subsequent constructs (e.g., disease refractory genes) to be site-specifically integrated in the mosquito genome. We have successfully used microinjection techniques paired with restriction enzyme mediated integration (REMI) to integrate our synthetic construct into the mosquitoes. Integration of the self-docking site gene was confirmed via PCR and sequencing data. However, the phenotype marker we used to help identify genetically modified mosquitoes from wildtype mosquitoes, a red fluorescent protein, proved ambiguous. Thus, we attempted to redesign the synthetic construct to contain an additional marker gene for better screening efficiency, but we have not yet identified a successful germline transformation of the southern house mosquito using our newly redesigned construct. Future work potentially should look at alternative methods for genome editing (e.g., CRISPR-Cas9), and construct designs (e.g., promoter and marker genes) to increase efficiency of integrating and expressing gene drive components in the southern house mosquito. Possible future integration and expression of the complete underdominance gene drive in the southern house mosquito could open up possibilities to control wild mosquito populations, whether for animal or human diseases.
---
The Spring 2019 Graduation List is out!
Congratulations to Andrew Cole, Eszter Collier, Renee Corpuz, Clifford Kow, Jr., Gina McGuire, Joshua Nagle, Joanna Norton, Kailey Pascoe, Jeffery Stallman, and Shea Uehana -- our new M.S. degree recipients!
---
Maya Munstermann TCBES M.S. Thesis Defense!
Maya Munstermann will present her Thesis Defense Seminar on Monday, July 8 from 9:00-10:00 am in STB 118.
Title: The global ecological signature of extinction risk in terrestrial vertebrates
Selective survival of species through mass extinction events has been a fundamental filter that has largely shaped contemporary patterns of biodiversity. With the current global biodiversity crisis permanently altering the biosphere, we classified 17,241 terrestrial vertebrate species with respect to their geographic range size, habitat association, method of locomotion, and feeding mode, and tested for an association between these species' attributes and extinction threat status to better understand extinction selectivity. Results reveal diverse vulnerabilities: species with small geographic range size, aerial habitat, brachiating and jumping locomotion, or scavenging feeding are all associated with significantly elevated risk of extinction. Agriculture and logging are the primary drivers of loss across all species with elevated risk and species that are endangered or critically endangered face a significantly greater number of combined extinction drivers than species that are vulnerable or near threatened. Identification of the specific traits and drivers associated with extinction risk allows for a strategic approach to conservation in the current biodiversity crisis.
---
UH Hilo LOHE lab members attend American Ornithological Society conference
Faculty Pat Hart, post-doc Kristina Paxton, and graduate students Erin Netoskie, Karen Gallardo, and Marty Kawasaki from the Listening Observatory for Hawaiian Ecosstems (LOHE) lab will be traveling to Anchorage, Alaska to present research at the annual American Ornithological Society conference. Good luck to everyone!
---
Community Engagement Funding Opportunity for UH Hilo Grad Students
Kūlana Noiʻi Award Biocultural Community Engagement Funding: Call for Proposals (2019). UH Hilo, in partnership with Kamehameha Schools and Kuaʻāina ʻUlu ʻAuamo (KUA), we are calling for applications for the 2019 Kūlana Noiʻi Award: Biocultural Community Engagement Funding. The goal of this award is to institutionalize community-based research by providing support for students to engage with the community and/or resource managers in Hawaiʻi to foster meaningful relationships for effective research and 'āina (land and sea) management. Awards will be approximately $500-$1000 per project. Read more details - Funding Opp instructions
---
Andrew Cole TCBES M.S. Internship Defense
Friday, April 19th at 11 am Andrew Cole presented his TCBES Internship project with USGS and coordinated work with the US Fish and Wildlife Service on the subject of: "How Much is Enough?: Linking Field Surveys to Geospatial Modelling for Conservation of Hawaiian Plants"
---
TCBES Symposium Student Awards in UH News!
Check out the article featuring the 11th Annual TCBES Research Symposium and the student award winners in the University of Hawaiʻi News.
---
Dominique Zarders TCBES M.S. Thesis Defense!
Please join us to learn and discuss investigations of host-shift behaviors of an interesting insect exhibiting a rare instance of using native hawaiian and non-native plants as its food and habitat source during Dominique Zarders thesis defense on Monday, April 15th at 2:00pm in Wentworth 1.
Title: Investigating Mitochondrial DNA Genes and Bioassays of Lantana Lace Bug to Assess a Possible Host Change
Understanding the causes of non-target host attacks by biological control agents is essential for improving the predictive power of host-specificity testing for insects. Testing host shifts can be challenging when rare instances of non-target attacks occur. The investigation of genetic variation within the agent species, paired with feeding and reproduction bioassays of the agent on potential host plants can provide a better understanding of control agent host-specificity. This is especially important when control agents display rare behaviors of attacking a new host species distantly related to the original host. Teleonemia scrupulosa (lantana lace bug) was first introduced to the Hawaiian Islands in 1902 as a biological control agent for the invasive plant, Lantana camara (lantana) and helped successfully control lantana throughout the Hawaiian Islands. Years later, T. scrupulosa was reported targeting a distantly related endemic plant species, Myoporum stellatum, in the absence of lantana. To better understand this rare case of non-target attack, insect-plant host bioassays and an investigation of intraspecific genetic variation using three different T. scrupulosa populations from two Islands were conducted. Results show slight mtDNA variation within one T. scrupulosa population on Hawaiʻi Island, but overall no statistically significant variation among the three populations. Bioassay results of host plant suitability indicate the Oʻahu population is more adapted to utilize not only M. stellatum but also M. sandwicense. The overall fecundity was higher on the Myoporum species among the Oʻahu population when compared to the West Hawaiʻi population. The W. Hawaiʻi population was more successful on lantana than the Myoporum species but was still able to utilize the purported non-hosts. However, the W. Hawaiʻi and the Oʻahu populations' fecundity were statistically the same when compared on lantana. This knowledge will aid in the determination if the host shift within the T. scrupulosa population on Oʻahu is a co-adaptive trait developed after being introduced allowing certain T. scrupulosa populations to utilize other plants in the region of origin, hence leading to higher likelihood of host shifts in new localities.
---
Eszter Collier TCBES M.S. Thesis Defense!
Eszter Collier will present her Thesis Defense Seminar on Wednesday, April 10th at 9:00am in the Mookini library, 2nd floor CyberCANOE (LRC350) as part of the Tropical Conservation Biology and Environmental Science Program (TCBES).
Title: Mapping Biological Soil Crusts with Very High Resolution Imagery
Historical land use patterns across Hawai'i have created degraded dryland ecosystems that are at high risk for erosion. An unfortunate example of this is the Kawaihae watershed, a semi-arid landscape prone to erosion located in leeward Kohala on Hawai'i island, where offshore deposition of eroded sediments have detrimentally affected coastal marine ecosystems by decreasing habitat quality and burying important cultural sites. Due to the extensive and persistent effects of erosion, it is important to look for non-traditional agents that may help to hold sediments in place. Biological soil crusts are communities of photosynthetic microorganisms that grow over bare soil in arid and semi-arid ecosystems and are known to increase soil stability. Despite their potential to mitigate erosion, the distribution of biocrusts in degraded drylands on Hawaiʻi Island is unknown. We mapped biocrusts in the Kawaihae watershed using imagery collected by small unmanned aerial systems (sUAS) at three spatial resolutions (1.15, 2.05 and 2.80 cm/pixel). Using a pixel-based methodology, we produced classification maps with overall accuracies ≥85% at all three resolutions. As biocrust development is associated with increasing soil stability, we also explored this relationship in the Kawaihae watershed. We identified 3 different biocrust levels of development (LOD) and conducted soil aggregate stability testing at all development levels. We found that there is a significant increase in soil stability between soils without surface biocrusts (LOD score of 0) and those with biocrusts at any development level (LOD 1-3). Higher-developed biocrusts imparted greater soil stability than less-developed biocrusts, but the impact on soil stability reached a ceiling beyond biocrust LOD 1. In addition, we applied our mapping methodology to investigate the direct impacts of biocrusts on soil loss. We overlaid our classified maps with digital surface models (DSMs) from data sets covering a 2.75-year time span and found intriguing trends of varying soil loss between biocrust and bare soil areas, but more work is needed to verify these results. We also explored the effects of grazing animals on biocrust cover by comparing classified images of a grazed site and a grazing-exclusion site. Our biocrust mapping methodology can be used by researchers and land managers globally and provides insight into the role of biocrusts in erosion prevention in the Kawaihae watershed and similar arid/semi-arid landscapes.
---
Shea Uehana TCBES M.S. Thesis Defense!
TCBES graduate student Shea Uehana will present his Master's Thesis defense this Tuesday, April 9th at 1pm in W14.
Title: Further Investigation of the dendrochronological potential for Māmane (Sophora chrysophylla) on Maunakea, Hawaiʻi
In order to better understand and predict the future effects of global climate change, researchers must utilize methods that allow accurate interpretation of pre-instrumental environmental conditions. Dendrochronology is especially useful because of its ability to utilize climate proxies spanning tremendous spatial and temporal scales in the form of tree rings. The construction of a global network of tree-ring chronologies is already well underway, but temperate bias has resulted in an underrepresentation of the tropics. The Hawaiian Archipelago provides a unique opportunity to gather tree ring data from an undersampled region of the eastern tropics. We used classical dendrochronological methods to expand on previous research on Hawaiʻi Island, adding trees from an additional site, Puʻu La'au, and extending the tree-ring chronology for māmane (Sophora chrysophylla) from 86 years to 173 years. We also investigated the dendroclimatic potential of our longer chronology and found that older māmane trees at Pu'u La'au do not appear to exhibit a strong enough growth-climate relationship to be utilized for climate reconstruction.
---
Kailey Pascoe TCBES M.S. Thesis Defense!
TCBES graduate student Kailey Pascoe will present her M.S. thesis defense on Tuesday April 9th at 3pm in Wentworth 1. Her presentation will also be streamed live on TCBES Facebook Page.
Title: Coral reef community structure and demographics act as drivers of partial mortality in corals throughout the Papahānaumokuākea Marine National Monument.
Understanding the association between coral community demographics and coral health is critical in the face of increasing environmental stressors driven by an ever-expanding human population. Within the last several decades, reefs around the globe have seen substantial increases in levels of coral disease as well as large-scale outbreaks and mortality. Corals are constantly experiencing partial mortality lesions, fusion, and fission. These conditions are affected by demographics, environment, competition, reduced health, disease, and natural disturbances. Corals exhibit highly variable levels of partial mortality, which is a useful indicator of overall coral health, thus it is important to identify drivers of this condition. This study examines monitoring data on coral health and disease from surveys (n= 4449) conducted throughout the Papahānaumokuākea Marine National Monument (PMNM) for the Reef Assessment and Monitoring Program. Linear mixed-effects models were used to identify characteristics of coral community structure and demographic parameters that were associated with partial mortality of corals. A significant latitudinal gradient was evident in both coral demographic parameters as well as partial mortality, with high latitude atolls exhibiting the lowest mean values in coral size, density, diversity and the highest mean values for partial mortality. The results from the linear mixed-effects models showed coral partial mortality is predicted by the size of individual colonies (0.02±0.26(S.D.)), density (-0.33±0.07(S.D.)), species diversity (-0.03±0.01(S.D.)), and colony morphology. Colony size showed a strong positive relationship with partial mortality, whereas density and diversity showed slightly negative relationships with partial mortality. Branching and mounding morphologies exhibited the strongest effect on coral partial mortality. These comprehensive statistical analyses provide useful insight into understanding the dynamics of coral health throughout the PMNM. Identifying characteristics of coral colonies and communities that are susceptible to reduced health and disease plays an important role in enabling scientists and managers to predict how reefs will adapt and change in the face of increasing environmental stressors.
---
Joanna Norton TCBES M.S. Thesis Defense!
Joanna Norton will present her Thesis Defense Seminar on Monday, April 15th at 1pm in Wentworth 9 as part of the Tropical Conservation Biology and Environmental Science Program (TCBES).
Title: Can Compost from a Nitrogen-Fixing Tree, Falcataria moluccana, replace chemical fertilizer and store carbon in agricultural systems?
The challenges of food production, invasive species control, and climate change are intersecting, as they all stem from our ongoing use of land and energy on a global scale. In east Hawaiʻi, two problems involving these issues are reflective of global trends. First, an expansion of agriculture is needed here, yet crop lands are typically depleted from prior farming and demand fertilizer inputs that are environmentally costly. Second, the invasive, nitrogen-fixing tree albizia (Falcataria moluccana) is dominating landscapes and altering ecosystems with rapid cycling carbon and nitrogen inputs.,These two trends are predicted to intensify with climate change. Yet each of these problems could hold a remedy for the other problem,using practices described in the new field of climate-smart agriculture (CSA). Hawaiʻi Island presents a unique opportunity to test if accumulated nutrients from albizia growth can benefit agricultural systems lacking in fertility, due to the intensity and grave consequences of the albizia invasion, as well as the underutilization of agricultural land and lack of food self-sufficiency in Hawaiʻi. This study examines whether compost from albizia can replace chemical fertilizer and store carbon in agricultural lands in East Hawaiʻi. Trials were conducted over one growing season, including two crops, corn and cassava, and 4 replicates across a spectrum of East Hawaiʻi farmland sites representative of varying soil conditions and land use history. Treatments included a control, a typical application of chemical fertilizer (1N nitrogen applied), two levels of albizia compost (1N and 2N levels of nitrogen applied), and two levels of combinations of chemical fertilizer and compost (1N and 2N). Harvest yield results showed that the albizia compost was not an adequate replacement for chemical fertilizer in the corn crops. In the cassava crops, albizia compost produced yields equal to chemical fertilizer. Variation among locations and within locations was larger than variation due to treatment in the cassava trial, but results suggest that the compost application was more effective on more degraded farm sites. Economic and carbon costs associated with the chemical fertilizer and albizia compost were generally not different across treatments, and a partial analysis of carbon gained or lost was also similar across treatments. The results of these field trials show that CSA using albizia compost can be a viable and equivalent method to chemical fertilizer, depending on characteristics of the site and the crop species.
---
CJ Kow TCBES M.S. Internship Defense!
TCBES graduate student CJ Kow will present his M.S. internship on Monday, April 8th at 9am in UCB 127.
Title: Understanding How Visitor Demographics Affect Scientific Learning at the Mokupāpapa Discovery Center
Students in the Hawaiian K-12 school system have consistently scored below the national average for proficiency in science. The Department of Education has implemented new "Next Generation Science Standards" for the 2019-2020 school year to increase the statewide average scores in science proficiency. With an emphasis on informal science, many educators are looking for resources that can help to improve the ability of their students to understand complex science topic. This study was conducted at a local science center, Mokupāpapa Discovery Center, to determine if visitor demographics are statistically associated with time spent at science exhibits. Visitors were observed over a two-month period, and observational data was collected and analyzed to determine if the 'total time' spent at each exhibit varied significantly based on the age or gender of the visitors. This study found statistically significant associations among the amount of time spent at various exhibits and visitor demographics. The most popular exhibits identified by this study were used to create a set of criteria, known as LASTING, that can be applied to other exhibits to increase total visitor time and target larger audiences. The overall goal of this project is to help cultivate scientific outreach exhibits to enhance STEM educational opportunities for K-12 students in Hawaiʻi.
---
Marty Kawasaki TCBES M.S. Thesis Defense!
TCBES graduate student Marty Kawasaki will present her Master's Thesis defense this coming Thursday, April 4th at 2PM in STB 118. See below for more info!
Title: "The urbanization of the Hawaiian stilt: Meeting the new neighbors"
The unique geography of Hawaiian wetlands on older islands create isolated habitats that have been degraded by the increase of western anthropogenic effects, leading to an overall reduction in functional waterbird habitat. The critically endangered Aeʻo or Hawaiian stilt, Himantopus mexicanus knudseni, navigates the heterogeneous landscape surrounding Hawaiian wetlands. Hawaiian stilt populations have been slowly recovering since the 1900s when numbers were devastated. Previous observational studies on Hawaiian stilt have demonstrated them to be a highly mobile species making them difficult to track across urban environment. The uses of GPS solar satellite tracking devices have offered a glimpse into the dynamic habitat uses of Hawaiian stilt. Over a six month period four Hawaiian stilts were fitted with GPS solar satellite trackers, their individual and daily movements were summarized by the habitat types they visited. I will discuss the highly variable movements I observed between individuals, and daily habitat use shifts from water dominated habitats to the more urban developed areas of Oʻahu.
---
Gina McGuire TCBES M.S. Internship Defense!
Join us for TCBES M.S. candidate Gina McGuire's internship presentation on Thursday, March 28th at 9am, in UCB 127.
Project title: Applying Makawalu to Midway Atoll's Visitor Program, Kuaihelani, Papahānaumokuākea Marine National Monument
UCB 127" />
---
Jeff Stallman TCBES M.S. Thesis Defense!
Congratulations to Jeff Stallman on a successful M.S. thesis defense on March 7th titled: "Taxonomy of Hawaiʻi Island's Lepiotaceous (Agaricaceae) Fungi: Chlorophyllum, Cystolepiota, Lepiota, Leucoagaricus, Leucocoprinus"
---
Journal publishes largest collection of scientific publications by Native Hawaiians
An interdisciplinary group of researchers from the University of Hawaiʻi teamed up with colleagues from other universities and several Native Hawaiian communities to compile conservation findings in a special issue of Sustainability that will be the largest collection of scientific publications made by Native Hawaiians. The group's work focuses on biocultural restoration in Hawaiʻi. Read the full article on the University of Hawaiʻi News website.
---
Students Karen Gallardo, Ashley Pugh, and Megan Hillery organized a successful, first-ever Women in STEM conference at UH Hilo!
On February 12th, the inaugural Women in STEM conference was held on the UH Hilo campus to discuss the current state of affairs for women in the fields of science, technology, engineering and math (STEM). The conference was sponsored by the UH Hilo Women's Center, TCBES MATERS Club and the Office of Equal Opportunity and Affirmative Action. To learn more about this great success, read the article and enjoy the pictures of the speakers and the opening ceremony!
---
UH Hilo students featured in the University of Hawaiʻi News for the use of cutting-edge technologies to study invasive mosquitoes
Read the article and watch the video to learn more about how UH Hilo graduate student, Jared Nishimoto, and undergraduates under the supervision of Dr. Jolene Sutton are developing genetic technologies that will help control invasive mosquitoes in Hawaiʻi.
---
UH Hilo faculty, Dr. Matt Knope, is using his own classroom to examine best practices in undergraduate research experiences
CURE (Course-based Undergraduate Research Experiences) have proven effective for a wide-variety of student learning objectives and Matt Knope, along with his collaborators at Arizona State, are investigating which model of scientific inquiry results in better outcomes for students. Read the full article for more information.
---
TCBES Student Sabena Siddiqui talk on experience at the 2019 International Whaling Commission meeting in Brazil
Graduate student Sabena Siddiqui will be giving a campus wide talk on a "First-Hand Behind the Scenes" account of the 2018 International Whaling Commission meeting in Brazil, January 23 from 3-5 PM in Campus Center Room 301.
Light snacks and refreshments will be served with a raffle drawing at the end of the event. Special Restrictions: Must have a valid Spring 2019 UH Hilo ID. For more information, please see the attached flyer or contact: uhhsac@hawaii.edu, (808) 932-7374.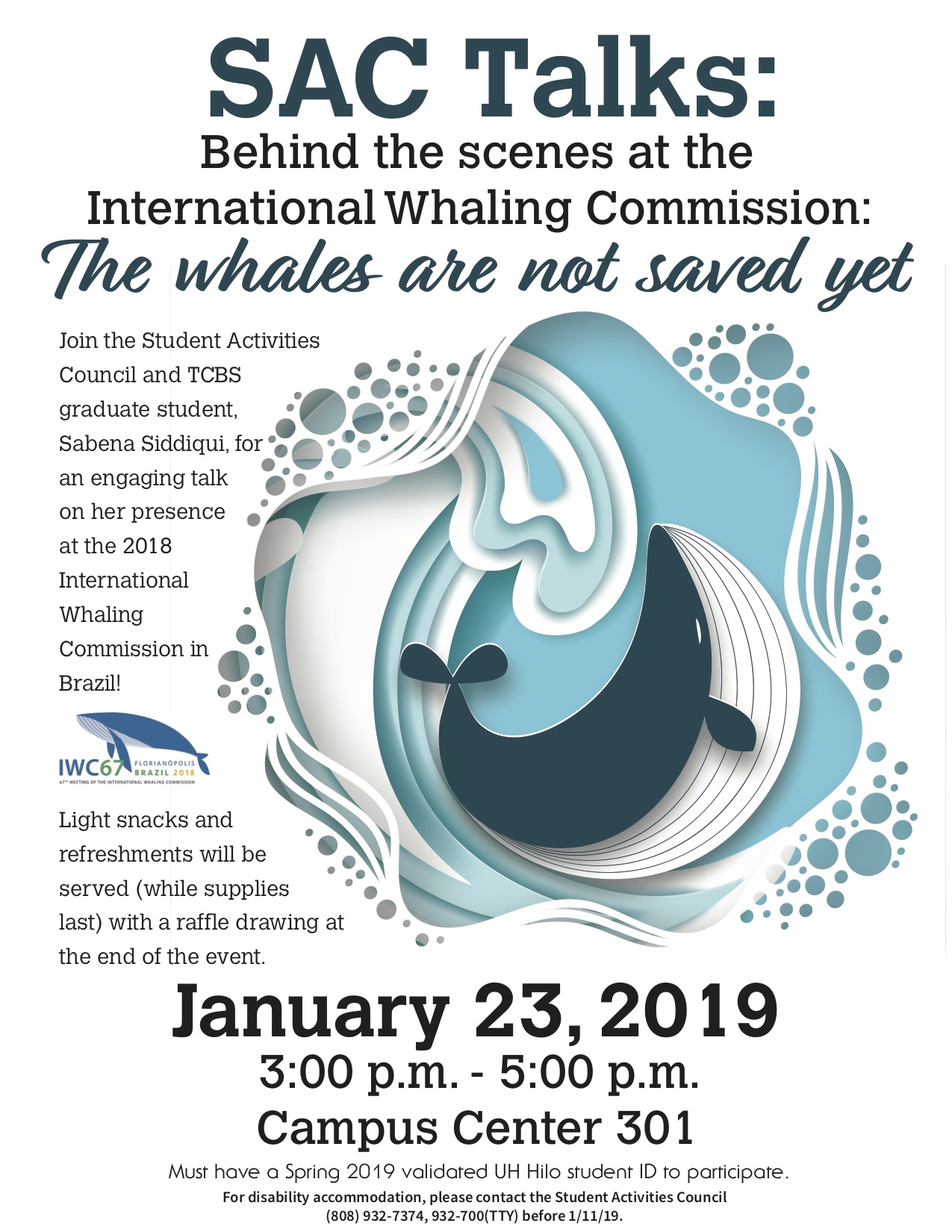 ---
TCBES Graphic Contest!
We're holding a graphic contest for this year's TCBES Research Symposium! The winner will have their artwork featured on the programs and advertisements, as well as win a prize! Anyone is welcome to submit their art by the deadline Feb. 15th, 2019. See the flyer for more details.
2018 News
TCBES Alumni Shine:
Nicole DiManno Martin wins 2nd place for RCUH Outstanding Report Staff for 2018!
Margaret "Peggy" Farias becomes President of local family company, W.H. Shipman Ltd
---
Congratulations to the newly elected TCBES Mater Club Officers!
President - Karen Gallardo
Vice President - Ashley Pugh
Secretary - Erin Netoskie
Treasurer - Leah Sherwood
---
TCBES student attends International Whaling Commission in Florianopolis, Brazil!
TCBES student, Sabena Siddiqui, is the Student Chair for "the world's oldest whale conservation organization", the American Cetacean Society (ACS). She helps mentor and guide student leaders of campus groups and was chosen by the ACS board to represent the organization as an NGO observer at this year's International Whaling Commission in Florianopolis, Brazil! She has been attending working groups discussing topics such as conservation, aboriginal subsistence whaling, and whale killing methods & welfare issues, as well as strategic meetings with US and international NGO's.
To learn more, follow Sabena's blog and check out ACS on social media.
---
The Summer 2018 graduation list is out!
Congratulations to Kamala Anthony, Cherie Kauahi, Nicole Fernandez, Geneviève Blanchet, and Ilana Stout -- our new M.S. degree recipients!
---
TCBES students Cherie Kauahi and Kamala Anthony's research featured in television program episode
Community based research on fishponds (loko i'a) by TCBES students and faculty featured in a new video, Adapting Culture to Climate Change. This episode of the television program Voice of the Sea focuses on projects developed with the Pacific Islands Climate Adaptation Science Center (PI-CASC). The film highlights work by TCBES Master's students Cherie Kauahi and Kamala Anthony, and faculty member Dr. Stephen Colbert, who's research was developed through a UH Hilo program called the Manager Climate Corps as a part of the PI-CASC. The episode features local partner Hui Hoʻoleimaluō and also describes a larger effort that manages and restores loko iʻa across the Hawaiian Islands and involves hundreds of other kiaʻi loko, owners, workers, supporters, and stakeholders in a statewide hui (network) called, Hui Mālama Loko I'a.
---
UH Hilo TCBES reward recipients at the 25th Hawaiʻi Conservation Conference recognized in the Hawaiʻi Tribune Herald!
Congrats to Geneviève Blanchet and Koa Matsuoka! Read the article in the Hawaiʻi Tribune-Herald.
---
UH Hilo TCBES students made great ground at the 25th Hawaiʻi Conservation Conference!
Special congrats to Geneviève Blanchet and Koa Matsuoka for receiving the student award for outstanding graduate oral presentation and runner-up for outstanding graduate poster presentation respectively.
Other TCBES students and recent graduates that presented talks and posters are:
Karen Gallardo Cruz, MSc TCBES student: Poster presentation
Rose Hart, Alumni MSc TCBES (Spring graduation): Poster presentation
Marty Kawasaki, MSc TCBES student: Poster presentation
Angalee Kirby, MSc TCBES student: Poster presentation
Jessica Kirkpatrick, Alumni MSc TCBES (Spring graduation): Oral presentation
Kristina Montoya-Aiona, MSc TCBES student: Oral presentation
Maya Munstermann, MSc TCBES student: Poster presentation
Kaikea Nakachi, MSc TCBES student: Forum organizer
Joanna Norton, MSc TCBES student: Oral presentation
Jeff Stallman, MSc TCBES student: Oral presentation and Wiki presentation
Dominique Zarders, MSc TCBES student: Oral presentation
Way to go TCBES!
---
The Spring 2018 graduation list is out!
Congratulations to Louise Economy, Lynx Gallagher, Rose Hart, Jessica Kirkpatrick, Amy Shimabukuro-Madden, Kathryn Van Dyk, and Jorden Zarders-- our new M.S. degree recipients!
---
Congratulations to TCBES student Eszter Collier
Our TCBES student Eszter Collier won two different scholarships to help fund her Masters' thesis project. She won one $1,000 from the Society for Conservation Biology and $1,000 from the Hawaiʻi Geographic Information Coordinating Council (HIGICC). Congrats to Eszter!
---
MS thesis defense by Kamala Anthony
Please join us for Kamala Anthony's M.S. thesis defense on Tuesday, July 10, 2018, at 3:30pm in Wentworth 1.
Title

Malama lokoia: Salinity and primary productivity relationships at Honokea loko, Hale o Lono, and Waiahole/Kapalaho on Hawaiʻi Island, HI.

Abstract

Along the coastlines of the Hawaiian Islands, there is a valuable and critical resource known for its brackish water habitat – loko i'a (Hawaiian fishponds). They are dynamic systems dependent on the balance between fresh groundwater inputs from uka (uplands) and landward flow of kai (seawater), which all vary depending on the behavior of our climate, including rainfall, tides, and storms. This nutrient rich groundwater meeting the seawater at the coast allows for an abundant growth of limu or primary productivity attracting many of Hawaiʻi's favorable native brackish water and herbivorous species. Having an intimate relationship with this natural coastal nursery, Hawaiians effectively modified these coastal habitats into loko i'a to provide a sustainable food source for the communities in which they reside. In support of these invaluable resources and practices, this study seeks to understand primary productivity and salinity relationships along the same coastline at Honokea Loko of Waiuli, and Hale o Lono and Waiahole/Kapalaho of Honohononui, HI. Through weekly water quality monitoring by kiai loko (fishpond caretakers), biweekly water column sampling, and benthic primary productivity experiments, salinity was found to be strongly correlated to many physical water properties and benthic primary production across all sites. Due to these strong correlations, loko i'a communities would greatly benefit from these methodologies to quantify the variability of environmental changes through time and specific impacts of climate phenomena, changes in rainfall and sea level. These factors have the potential to interfere with primary productivity and alter loko i'a systems interactions entirely.
---
MS thesis defense by Cherie Kauahi
Please join us for Cherie Kauahi's M.S. thesis defense on Friday, July 6, 2018, at 10 am in Wentworth 1.
Title

Hydrology of three Loko Iʻa, Hawaiian fishponds, on the eastside of Hawaiʻi Island, HI

Abstract

Groundwater is a primary source of nutrients for loko iʻa (Hawaiian fishponds) in Hawaiʻi. However, freshwater inputs are variable in these dynamic coastal ecosystems. The focus of this study was to (1) understand the changes in relative groundwater flow through time, (2) determine differences in groundwater composition among shoreline and loko iʻa springs and (3) determine how climate change may impact these groundwater dependent ecosystems. Three groundwater fed loko iʻa kuapā were the focus of this study: Honokea, Hale o Lono and Waiāhole loko iʻa, in Keaukaha, HI. Through time series measurements, the application of mass balance equations and Darcy's Law, groundwater flow was found to vary at time scales of months and seasons. Furthermore, positive relationships between relative groundwater flow and rainfall were significant. Sampling of springs determined differences in groundwater chemistry, with the highest NO2 + NO3 at Waiāhole and the highest PO4 at Honokea. Based on d18O, the elevation in which rainfall occurred that contributed to regional recharge of aquifers feeding loko iʻa and shoreline springs ranged between 400 and 900 m, with the elevation of source water increasing at springs farther east. Predicted increases in rainfall between 20-40% could increase groundwater flow equivalent to that observed after >75 mm of rain over a 48 hr period. Future sea level rise, 0.4 m by the year 2040, will result in the daily high tide salinity increasing from 3-8 to >16. This study provides baseline information for managers restoring these unique environments to prepare for future changes in loko iʻa hydrology. Furthermore, the methods used here can be applied to larger groundwater dependent ecosystems throughout Hawaiʻi.
---
TCBES students and faculty involved in response to Kilauea eruption
Watch the CNN video featuring a recent TCBES graduate, Rose Hart, and faculty member Jon Price.
---
MS thesis defense by Nicole Fernandez
When

Friday, June 8th at 10am
Where
STB226
Nicole will be presenting her work on the 'Omao (Myadestes obscurus), come and support her at her defense!
---
New TCBES Car Rental Email and Supply Services
The TCBES cars can now be rented with Jeremy at tcbescar@hawaii.edu.
Although we will try our best to accommodate everyone, try booking the car as early as possible to avoid disapointment.
- TCBES 4 Runner Sign-Out Form $50/day - TCBES Ford Escape Hybrid Sign-Out Form $30/day
We also have created a new service where TCBES students and affiliates can borrow equipment for free from TCBES. Please view the list of items on our Support Page. You can request equipment from Jeremy at tcbessup@hawaii.edu.
---
MS thesis defense by Geneviève Blanchet
Title
Genomic diversity of the critically-endangered 'Alalā (Corvus hawaiiensis) early and late-bottleneck
Abstract
Genetic diversity is often reduced in bottlenecked populations, which can lead to problems like inbreeding depression and reduced adaptive potential. One example of a bottlenecked species that is experiencing negative genetic consequences is the 'alalā (Hawaiian crow; Corvus hawaiiensis). The 'alalā suffered a century-long bottleneck, and became extinct in the wild in 2002. After decades of captive breeding, 11 individuals were successfully released back into the wild in October 2017, representing the first step in a long-term reintroduction effort. To aid this species recovery program, we have begun assessing genome-wide diversity in the 'alalā. In this study, we used a single nucleotide polymorphism (SNP) capture approach to test for loss of allelic diversity and heterozygosity between two sets of samples: museum and modern. Museum specimens were collected in the early bottleneck period (circa 1890), and modern individuals were sampled during years in which the population reached its smallest size (circa 1990). Preliminary data analysis suggests no loss in overall genetic diversity – measured as the number of SNPs per bird – between groups, but genetic structuring is present between museum and modern samples. If these preliminary findings are confirmed by our on-going, in-depth analyses, this would suggest that the 'alalā population was relatively small with low genetic diversity before the bottleneck event.
---
MS thesis defense by Ilana Stout
Title
Perpetuating Agricultural Heritage: Saving Seeds and Stories on Hawaiʻi Island.
Abstract
The saving and exchange of seeds and other germplasm is an essential component of in situ conservation of agricultural biodiversity. This qualitative research project identified people who keep seed on Hawaiʻi Island, collected their stories of heritage varieties of seeds, interviewed them about their motivations for seed saving and exchange, and examined their challenges. Seed savers cite a wide range of motives for keeping and sharing seed and identified specific challenges to effective seed saving here in Hawaiʻi. The findings from this study may be useful to academic and non-profit organizations that seek to encourage seed saving and enhanced seed exchange networks in the Hawaiian Islands. Strategies for further identifying and collecting the stories and germplasm of rare heritage varieties through citizen science methods are discussed.
---
MS Internship Presentation by Katie van Dyk
Katie van Dyk is a TCBES Internship Track student and will give a public presentation of her work on Friday May 25 at 11:00AM in Wentworth 14. The title of her talk is: "Pollination in Hawaiian Forest Birds"
---
Congratulation to TCBES student Jeff Stallman
TCBES master student Jeff is making news with his research on "Genome research for worldwide Smithsonian project" on Compositae (daisy family) found on Hawaiʻi Island. Great job Jeff!
Research at UH at Hilo
Very interesting research done here at UH at Hilo on was picked up by The Walstreet Journal Hawaiʻi's Cesspools Threaten Drinking Water, Tourism Sewage from holes of human waste have state lawmakers scrambling to find a fix
Congratulations to all the people involved in this great research:
Faculty: Steve Colbert, Jim Beets, Lisa Muehlstein
TCBES students (at the time of project): Leilani Abaya
PIPES: Maile Aiwohi, Evlyn Braum (UH Manoa), Rick Tabandera, Devon Aguiar, Jazmine Panelo, Bryan Tonga, Belytza Veretez, (U of Puerto Rico) - all UHH MARE unless otherwise noted
Volunteer: Chelsea Wong (UHH MARE)
STEM Honors, Sigma Xi: Carrie SooHoo (UHH MARE)
EPA GRO: Serina Kahilii (UHH MARE)
Technician: Kailea Carlson (former TCBES), Lindsay Kramer
Puako Community Association
South Kohala Conservation Program: Sierra Tobiason (UHH MARE, TCBES)
The Nature Conservancy: Chad Wiggins (UHH MARE), Rebecca Most (TCBES)
UH Manoa/TNC: Courtney Couch
---
TCBES Cars are Back on the Road After a few weeks of repairs, both TCBES 4Runner and Ford Escape Hybrid are back on the road! Reserve them by contacting Katie at kvandyk@hawaii.edu
---
Congratulations to our Fall 2017 graduates
Congratulations to our new TCBES M.S. graduates Laura Crane, Heather Nahaku Kalei, Blaine Luiz, and Hokuokahalelani Pihana.
---
Congratulations to Dr. Jonathan Koch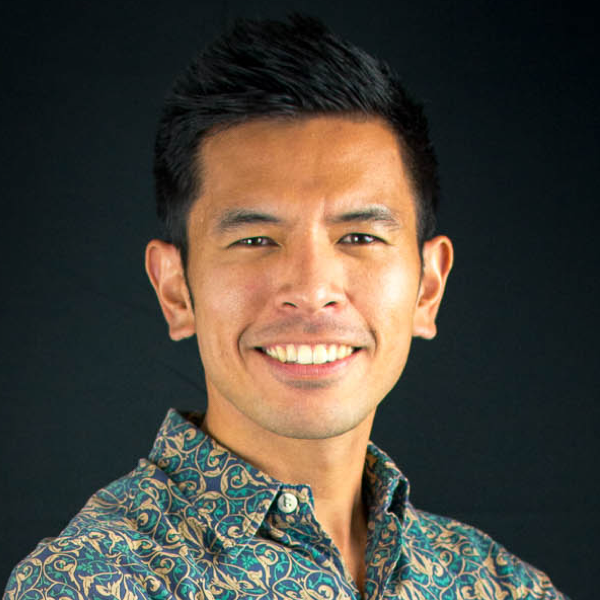 Dr. Jonathan Koch was awarded the prestigious 2018 Smith Fellowship to study genomic diversity of Hawaiian bees! Find the full story on the Society for Conservation Biology News page, on UHH news page, on the UH System News page, in the Hawaiʻi Tribune Herald, and on Big Island News Now.
---
Congratulations to TCBES student Kathryn van Dyk
Katie is a recipient of the Hawaiʻi Audubon Society Research Grant for her project: "Important Plants for Nectarivorous Birds in Continuous and Naturally Fragmented Forest on Hawaiʻi Island".
Way to go Katie!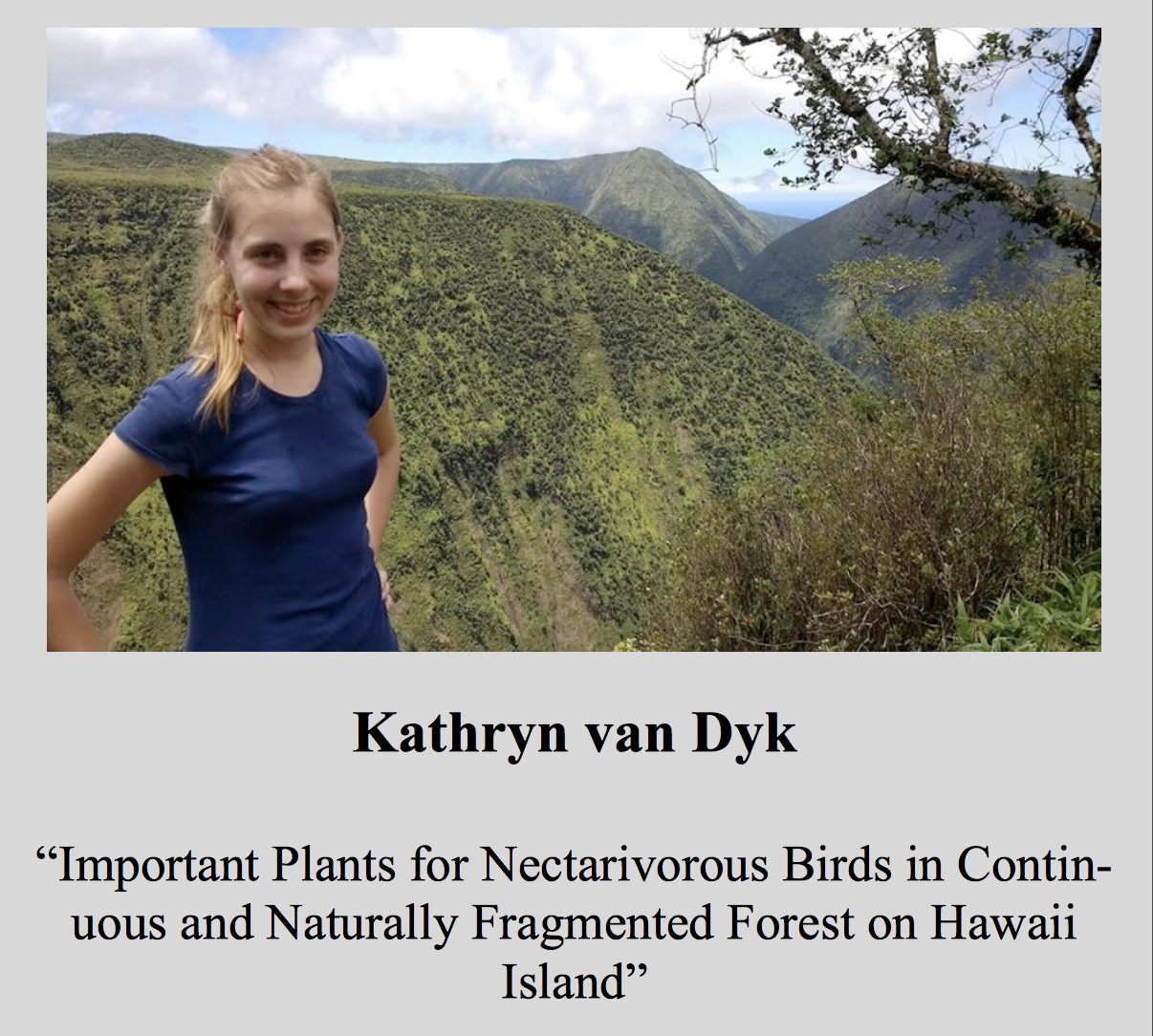 ---
10th Annual TCBES Symposium Abstracts Accepted
Aloha TCBES 'Ohana,
On behalf of the TCBES Club, it is with great pleasure that I announce abstracts are now being accepted for the 10th Annual Tropical Conservation Biology and Environmental Science Research Symposium! This year's theme is "Engaging Culture and Science in Hawaiʻi." This event will be held on April 5th and 6th in Campus Center Room 301.
Please consider submitting an abstract for either a 5 or 15 minute talk, or a poster presentation. All poster presentations will be held on Thursday, April 5th, from 5:00-7:00 PM in Campus Center Room 301.
Abstract submission closes at 11:59 PM on February 23, 2018.
Please follow the link to submit an abstract and register!
2017 and 2016 Archives