2021 Intern Cohort
On this page:
Mikayla Barnwell
Mikayla is from Manchester, Connecticut. Her professional internship is with The Nature Conservancy (TNC). For her internship, she is working to help TNC develop a place-based pilot coral restoration program in West Hawaiʻi. The activities she is involved in include preparing for and participating in community-based meetings, drafting project plans, assisting with developing experimental design, and helping to draft language for permit applications. She will also be assisting with fieldwork to conduct baseline monitoring and coral nursery setup. Hawaiian corals are extremely slow-growing, averaging about 1-2cm per year. Restoration efforts can help to propagate large numbers of these slow-growing corals which increases the amount outplanted back onto the reef. Her favorite part of her internship is getting to experience all the steps involved in the planning process of a coral restoration project. One of the most challenging aspects of her internship has been navigating around the permitting process. Very specific information is required and the process takes much longer than she anticipated.
Alejandro Caamaño Barrientos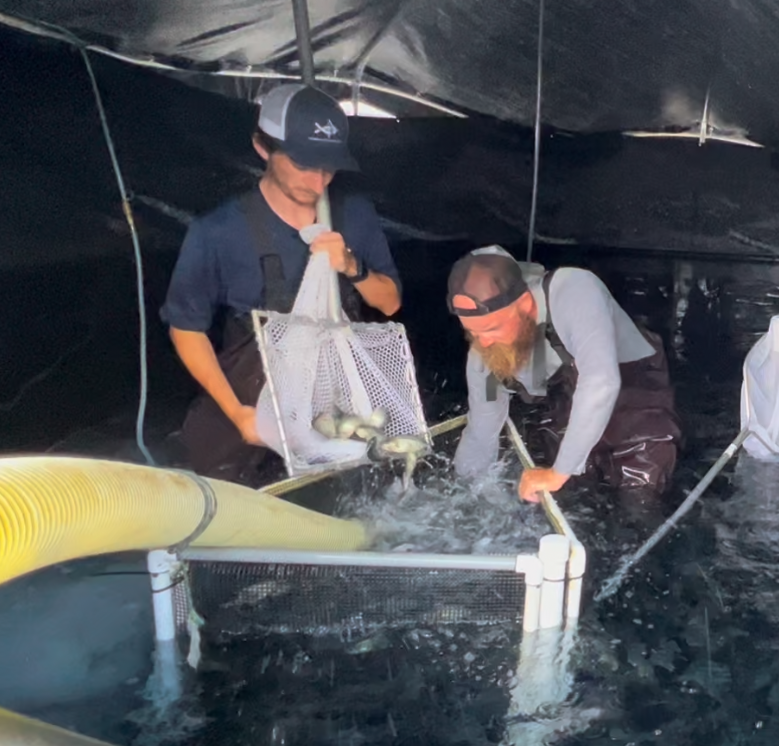 Alejandro is from Berkeley, California. His professional internship is with Blue Ocean Mariculture, the first fish cultivation facility to be certified by the Aquaculture Stewardship Council (ASC). He is primarily responsible for assisting in the production of the hatchery operations division where he formulates live feeds, rears larval and juvenile fish, and also maintains broodstock health and reproduction. The overarching goal of the hatchery is to produce large quantities of viable juvenile Almaco Jack (Seriola rivoliana) that are suitable for offshore transfer to the facility's open ocean cages which facilitate additional growth. The hatchery phase of production is essential as it optimizes the potential health, growth, and survival of fish through their most vulnerable life history stages until they are sufficiently sized for harvest. His favorite part of his internship is getting to meet all the wonderful people he works with each day while working directly with fish. The most challenging part of this internship is that moving thousands of juvenile fish from the hatchery to offshore cages requires many long, arduous days.
Lucy Chalgren
Lucy's professional internship is with Colorado State University in partnership with National Oceanic and Atmospheric Administration & 'Imiloa Astronomy Center. Her work in science communication is all about bridging those gaps between trained scientists and the public. Science communication is an incredibly varied field. There are many avenues in which you can make scientific research more accessible. She feels fortunate to have had the opportunity to use the different methods of social media and place-based curriculum, between her two projects. Her favorite part of her internship experience has been seeing the impact science communication has on the community. Many individuals either do not pursue or do not have access to further training in science post high school. Watching someone's eyes light up with wonder and curiosity with a new understanding of the natural world after being engaged in science communication, reminds her of how important the continuous need to make science more accessible is. Science is for everyone! The greatest challenge is keeping the attention of Kindergartners at ʻImiloa's Hālau Lamakū, hands down. They are incredibly curious about the natural world one minute and the next, they want your life story on how you became a kumu (teacher)!
Cienna-Lei Daog
Cienna is from the ahupuaʻa of Keonepoko. Her professional internship is with the Kumuola Marine Science Education Center. Kumuola is a gathering place for students, researchers, and community members to reconnect with ʻāina (land, place). Each person who visits creates a lasting impact on the cultivation of loko iʻa, a vital native resource. The kuleana (responsibilities) she maintains at Kumuola is being a steward, researcher, and teacher. These three roles have exposed her to many learning opportunities that have shaped her into a more dynamic person. Her research at Kumuola will simultaneously fill knowledge gaps and teach students the importance of native habitats. Her favorite part of her internship experience is meeting a broad range of people, especially the students. Seeing their excitement and motivation to learn and work at Kumuola makes her love the journey she's on even more. The most challenging work she has done as part of her internship is navigating the role of being a teacher. She has not experienced being in charge of a group of elementary students until Kumuola. It is a fun yet nerve-racking learning process.
David Girbino
David is from Cleveland, Ohio. His professional internship is with Pahoehoe LLC, a new company that is aiming to develop a sustainable and community-centric agroforest and solar complex in Pahoa. As the sole intern and one of only three employees at Pahoehoe LLC, his roles are numerous. He is responsible for writing grants, coordinating with agroforestry consultants, developing an agroforestry layout and 10 year plan, conducting biodiversity surveys, working on community outreach, and more! He is also collaborating with a team at MIT to develop their ability to identify tree species using drone footage. It has been such a joy for him to challenge himself with the ins and outs of creating such a huge project from scratch. He is constantly learning new skills, meeting new people, and building his network. The most challenging part of his work so far has been coordinating between so many people across islands and the mainland. Everyone is so busy, and it is difficult to get everyone in the same (often virtual) place.
Hannah Hartmann
Hannah is originally from Los Angeles, California. Her professional internship is with the Sierra Club of Hawai'i. Her work heavily incorporates mycorestoration, which is the utilization of saprophytic fungi as catalysts to facilitate the removal of various pollutants, chemicals, and toxins from degraded environments. She and her research partner, Riley-Sanae Allen, a PhD fellow at Pennsylvania State University, are furthering research in the novel field that is mycorestoration. They are developing a mycofiltration implementation plan to address the contaminated waiola as a result of the Navyʻs negligence at Red Hill Bulk Fuel Storage Facility on Oʻahu. This includes contextualizing the crisis, experimental design to prove mycofilter efficiency at remediating jetful, and navigating regulatory processes to get this biotechnology from the lab to the landscape, and more importantly in the hands of the community. Her favorite part of her internship experience is that it has allowed her to begin the process of starting her own mycorestoration non-profit while giving back to the ʻāina, Kānaka maoli, and the community that she is honored to now be a part of. A challenging part of her internship is navigating and participating in the legislative processes at both state and local levels. She has little experience in this realm, but is working through the dense jargon of the regulatory world.
Avalon Paradea
Avalon is from Waikōloa, Hawaiʻi. Their professional internship is with South Kohala Coastal Partnership (SKCP), which comprises over thirty organizations within the South Kohala region, all working on their own unique projects while sharing the goal of creating a flourishing environment and community. They work with several SKCP partners assisting a variety of fieldwork and outreach-related projects. At the core of these activities is the desire to help facilitate South Kohala residents' ability to build pilina (relationships) with the ʻāina of this region. They love meeting the diverse network of passionate souls who care about this unique ecosystem. Working with such a broad network can be a challenge in and of itself – they are learning that good communication is key.
Natasha Siaivao Selai Ripley
Natasha is from American Samoa. Her professional internship is with the Department of Marine and Wildlife Resources - Coral Reef Advisory Group. Her work includes carrying out coral nursery out-planting project, conducting phytoplankton tow surveys in Pago Pago Harbor, developing CPCe training materials, and monitoring program duties and responsibilities. Her favorite part of her internship is working with amazing people, being out in the field, and contributing to improving, protecting, conserving, and preserving coral reefs in American Samoa. She also enjoys collaborating with agency members and partners in fieldwork, meetings, and discussions. The most challenging part of this internship is working around COVID-19-related problems.
David Russell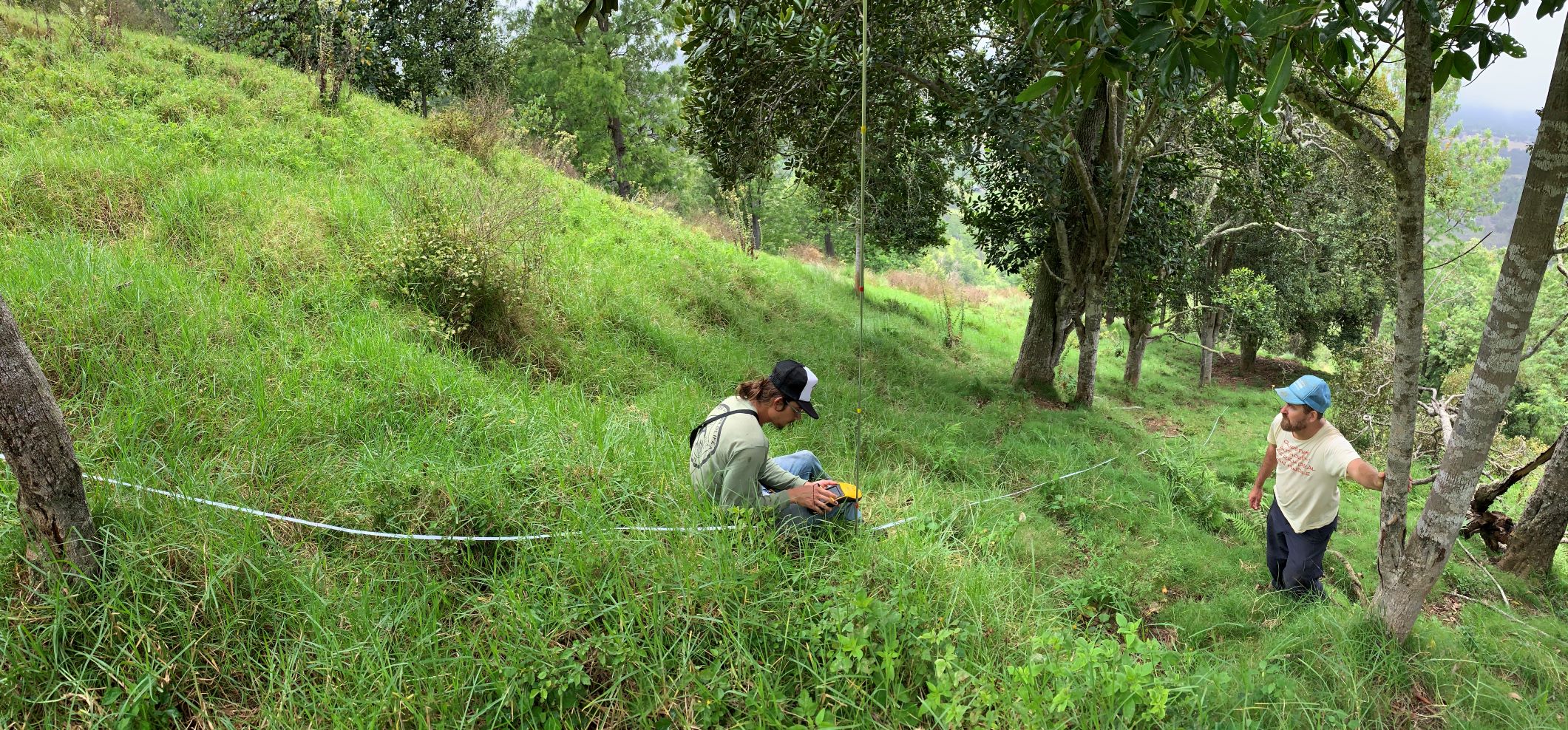 David is from South Kona. His professional internship is with the US Forest Service. One of the activities his internship will focus on is gathering information about the historic plants, disturbances, and climate conditions on Puʻuwaʻawaʻa, with an emphasis on the plants. He will also do ground surveys of the remnant native species on Puʻuwaʻawaʻa. Finally, using the information gathered, he will identify the species that are best suited to grow on Puʻuwaʻawaʻa under future climate conditions. This will all be compiled into a climate adaptation plan which will help inform restoration efforts. The Puʻuwaʻawaʻa Community Based Subsistence Forest Area (PCBSFA) is the first Community Based Subsistence Forest Area (CBSFA) on government lands in Hawaiʻi. His favorite part of the internship is being a part of a project that prioritizes the wants and needs of lineal descendants of this place. The most challenging part is hiking up and down certain areas of Puʻuwaʻawaʻa, particularly the areas covered in aggressive weeds.